Podcast: Play in new window | Download (Duration: 1:09:15 — 63.6MB) | Embed
Subscribe: Apple Podcasts | Google Podcasts | Email | RSS | More
Mark is back from a holiday in Fiji, refreshed, tanned, and full of hot air.
The news is mostly about birds this week, where we learn about bird brains, the pros and cons of feeding wild birds, and the sad life of a New Zealand Gannet. In brighter news, the invention of an edible 6-pack may help protect marine mammals.
Our book review this week is a reptile text of great value and use for general practitioners, though Brendan refuses to give it a score out of 10: Listen to the podcast to find out why!
Our main topic this week is ectoparasites of small mammals. We scratch the itch to discuss mange in guinea pigs, fur mites in rabbits, and rodents that can't stop scratching. Just thinking about these topics is making us itchy.
Book review: Reptile Medicine and Surgery in Clinical Practice
or find it on the USA Wiley site here
Links:
Brewery's edible 6-pack protects marine mammals
No Mates Nigel the New Zealand Gannet 
This is the Fiji resort that Mark stayed at. And here is a picture of one of his crabs!: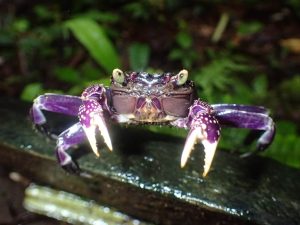 Contact us: VetGurus@gmail.com      Twitter: @VetGurus
Support us on Patreon: Patreon.com/vetgurus